Dr Og read on ST today that Bee Kok hospitals have a new subspecialty called The Nocturnist!
It's been discovered that Docs at night very sleepy (ah bud den??!) and we need to train a new breed of nocturnal drs.
Vampires would have made the ideal NOCTURNIST, except that at the time of this blog, I still have not friend (FB or otherwise) a real one (though blood suckers are aplenty in any HR dept).
I think it's very impt for Singapore to quickly adopt this concept and start a residency programme to train vampire doctors! Trust me, Jay-See-I (pronounced as J-C-I) will soon audit you for the number of
bats
noctunal specialists you have working the witching hour!
And Dr Og volunteer to be the
master vampire
training director! In fact, I already have the training schedule in place. For the first year of residency, our dear residents just need to hang around. As precious residents, we cannot expect them to do any work before they are nortunalised can we?
In the second year, they will learn to take blood like true vampires; needles and syringes optional. The number of blood they can take shall be limited to ONE.
(If you work them too hard, they will quit and the programme will fail! How can residency fail tio boh?)
The third and final year will be the critical year! This will be the toughest year where they will be required to stay from 11pm to 6am...... in a discotheque. Please understand that the Nocturnist will be permanently nocturnal. As such where else can he go relax and unwind on off days? As far as Dr Og is concerned, we should only have female residents since budget is limited and girls can get into discos free on ladies nights! We need work life balance for the pos Gen Z mah!!!
So you might ask, Where got training like that!!?? Come on, we must be fair and treat our residents as slack as the other specialty.
To bring the concept further, we should also have nocturnal multidisciplinary team with nocturnal nurses, OTs, PTs and MSWs... (and not just uniform night in the discos). What the heck, why don't we set up our third medical school as a Nocturnally Imperial College or Imperially Nocturnal College ( whose name come first is very important and needs to be deliberated carefully).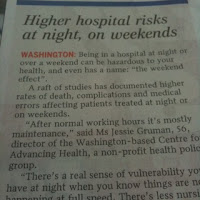 Sounds stupid to you??!! Yeah, it probably is...
PS: Love Song For A Vampire
:)
RETRO SIAH!!!
Tags:
Fun
,
Nocturnist
,
Medical
,
Vampire